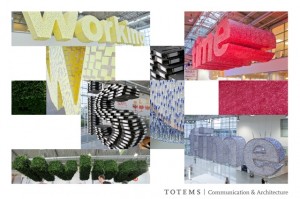 Working Time Is Living Time
Orgatec boulevard at KölnMesse 2010
Totems created 5 installations in the shape of words for the boulevard at the Kölnmesse during the Orgatec fair. The words formed a sentence: "WORKING TIME IS LIVING TIME". An appropriate sentence for the most important furniture trade fair show. Lightweight metal frames, hung in the middle of the space. And each word differently coated. The decoration expresses the word character:
WORKING – completely covered with post-its
TIME – is formed by textile
IS – 700 pieces LEITZ-binders, attached to each
LIVING – here a light frame, covered entirely with ivy natural material
TIME – TIME Secondly, these covered with 10,000 BIC ballpoints.